January 9th, 2009
The Universal Serial Bus is a very useful PC interface. The bus concept allows for almost endless devices to be connected to a PC, where the older serial port and parallel port interfaces were very limited.
The bus concept also means that there are shared resources on the USB interface. The data link is shared, but the USB protocol ensures this resource is used efficiently and error free. The power consumption on a USB port is also shared, which means that any USB device should not exceed a certain power usage limit.
If you want to know how much power a USB device is using, follow these steps:
(the example is based on Vista, but can be used for Windows XP as well)
In the Windows Start menu, select Run.
In the Run dialog box, type devmgmt.msc and press Enter or click OK.
In the Device Manager window, open the branch called Universal Serial Bus Controllers.
Now right-click a USB Root Hub, and in the popup menu select Properties.
In the USB Root Hub Properties dialog box, select the Power tab.
Under the Hub Information you can read the power available to the hub, and in the Attached devices list you can see which USB devices are connected to the hub and how much power they require.
Repeat steps 5 and 6 to check the power for all USB Root Hubs.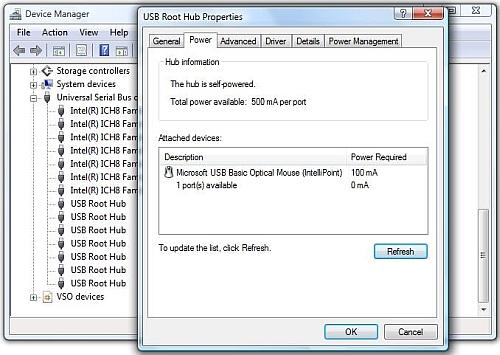 While going through the list, check if any of the total power requirements of attached USB devices exceeds the power capabilities of the hub. If that is the case, you can try a number of things.
The simplest solution is to plug one of the USB devices to a different USB port if available. If it is a single device causing the overload, this won't work of course.
Another option is to use an external USB hub. Use a USB hub with its own power supply, so the PC's USB port is not overloaded anymore. Do check the specifications of the USB hub, so it will meet the USB power requirements of your devices.
If it is a single USB device causing the problem, the USB device probably also has its own power supply. External USB hard disks often have the possibility to use the USB port for power or to use an external, separate power supply. Since hard disks can take considerable power, it is better to always use the external power supply.
If you want to read more about the USB interface, check the USB specification documents.
Entry Filed under: Device Drivers