December 17th, 2010
Although in general you want to keep your computer up to date, including device drivers. But if you have a driver related problem, installing an older version can sometimes solve the issue. And in that case you do not want Windows Update to automatically update the driver again. It could also be that there is no driver for your hardware in Windows 7, but a Vista driver works. In those cases you want to manually install it and not rely on the Windows driver update service.
But in Vista and Windows 7 you can easily disable the automatic driver updates. Just follow these steps:
Open the Control Panel
Select System and Maintenance
Select System
Now click Advanced system settings in the left-hand panel (if the UAC is turned on, click Continue to proceed)
Next, click the Hardware tab
Click the Windows Update Driver Settings button

Now you need to select the driver update option you want to use.
The default option will automatically check for drivers and update them. To disable automatic driver updates in Vista, select either the second or third option and click OK.
In some cases this appears not to work, and then there is another method to disable automatic driver updates in Vista and Windows 7. This involves the local group policy editor, which can be started from the Start meny by typing "gpedit.msc" followed by Enter.
Once started, in the Local Group Policy Editor, navigate to the following: Computer Configuration -> Administrative Templates -> System -> Driver Installation.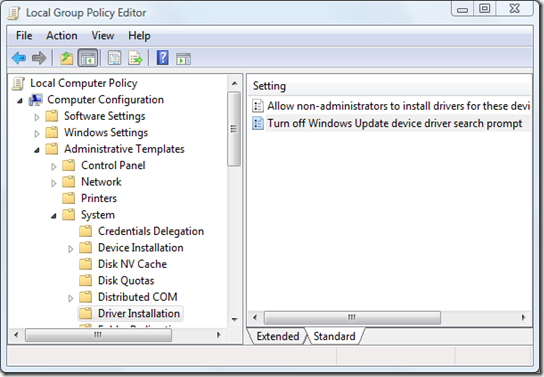 Next, change the setting for Turn Off Windows Update Device Driver Search Prompt
to Enabled. After clicking OK and closing the Local Group Policy Editor, just restart and that's it.
Since the Local Group Policy Editor is used, this second option is limited to the Professional and Ultimate editions of Windows Vista and Windows 7. The Home versions do not have this option.
Entry Filed under: Device Drivers