December 4th, 2009
Regularly checking for computer driver updates is a good practice. It will keep your hardware running at maximum performance, make sure all hardware functionality is enabled, and it can help prevent device related errors, which are known to often cause blue screen errors!
But of course a driver update can occasionally also cause a problem in your system. A conflict with another hardware device can be the result, or the device suddenly can not be used in some programs anymore. Beta drivers can have this effect, since they need to be tested more.
Revert Back to the Previous Driver
Luckily Windows offers the possibility to restore the previous version of a device driver in most cases. Windows XP, Vista and Windows 7 all have the functionality that a driver backup is taken whenever a new driver is installed, so it is possible to restore that driver from the backup. This is called a roll back in Windows.
To do a driver roll back, open up the Windows Device Manager. You can access it in the Control Panel, or type it in the search field of the Start menu for "device manager" and click the resulting program.
In the device manager, you need to right-click the device for which you want to restore the previous driver version. In the popup menu, select Properties.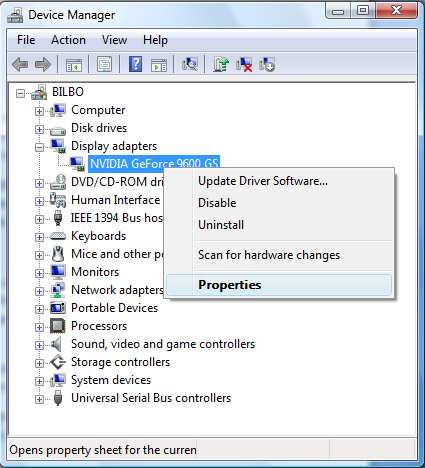 This will bring up the Properties window for the selected hardware device. In the device properties window, select the Driver tab. Now you will see the driver details and a number of buttons with driver functions.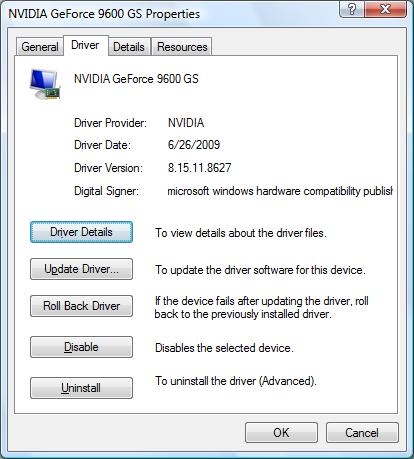 The next step is to click the Roll Back Driver button. You will see a confirmation message, where you need to click the Yes button.
Some notes on this procedure:
Make sure you are logged in as a user with administrator privileges.
You can only roll back to one previous version of a driver.
The driver roll back feature is not available for printer drivers. In that case you will need to download the older version of the printer driver and install that driver.
Entry Filed under: Device Drivers