January 16th, 2009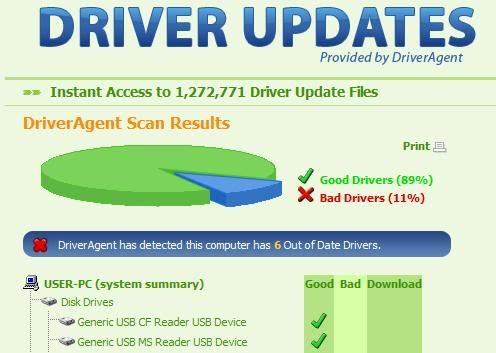 Unless you've got Windows Vista running and you're using products whose companies are neck-deep in relations with Microsoft, chances are that finding updated drivers are going to be tough, leaving your hardware outdated and possibly slower or more vulnerable than they should be. Fortunately, with so many devices out there, some companies have taken the time to archive, organize, and create a simple scanning program to make sure that hardware is kept up to date.
There are already a few sites out there, but DriverAgent.com is probably the easiest and most user-friendly one out there. After a quick 416kb download and an almost as quick scan of your computer's hardware, the software compares the drivers you currently have with the over 1.2 million updates available, making sure that you have the most recent update possible.
Just doing a search found six out of date drivers on my computer, which was five more than what Vista's Windows Update caught when performing the same search. The caveat comes when you try to download said drivers; a yearly subscription fee of $29.95. While the service is great and reliable, it's tough to justify the cost when there are slightly more inconvenient ways to get the updates to your drivers. The company also throws in a few extra programs into the package, but how often one would need to use any of them is beyond anyone's guess.
Until then, stick with the old fashioned way and find each driver manually. We'll be sure to keep you posted on any developments on driver update programs we find that'll be worth your time.
Entry Filed under: Device Drivers,Frequently Asked Questions