March 30th, 2010
When you plug a USB device in a Windows computer, you will see a small popup in the notification area of the taskbar informing you of the USB device. If it is a known device, the driver will be installed and the device will be ready for use.
If there is no driver for the device, or the device is not recognized, you will be informed of that fact as well. In some cases the driver installation and device activation actually will show several of these popup messages in the notification area. This can be the case if the USB device has multiple functions.
Unfortunately there are also scenario's where these popup messages in the notification area do not seem to make sense. No USB device is being plugged, only existing USB devices are present, or maybe no external USB devices are present at all.
If you are not interested in the USB notification messages in Windows, you can actually disable them. Basically you tell Windows to not report and USB errors on the USB controllers.
To disable USB notification messages, simply open the Device Manager in the Control Panel and open up the branch called Universal Serial Bus Controllers.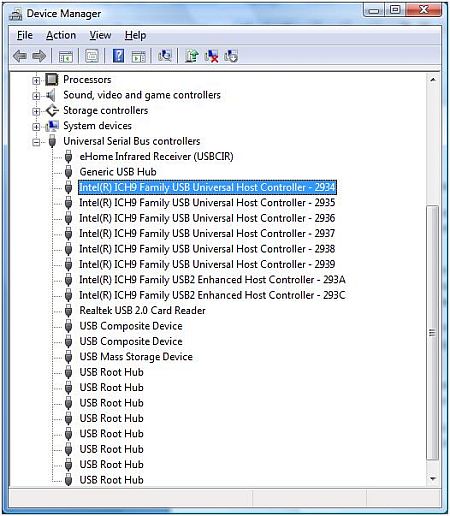 You will see quite a few devices in the list, but we are only interested in the Host Controller devices. Right-click the first entry and select Properties in the popup.
Next, select the Advanced tab and then select the checkbox named Don't tell me about USB errors.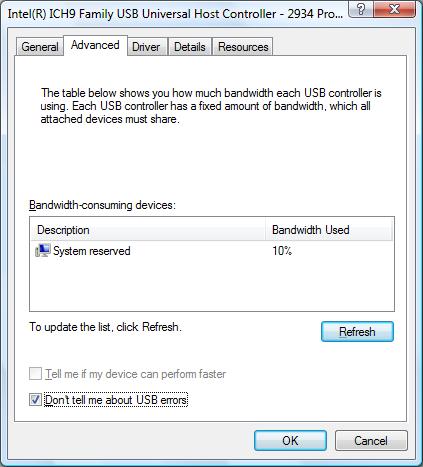 Click the OK button and repeat these steps for the other Host Controller devices.
When you are done, close the device manager and you should no longer see and USB device notifications in the Windows taskbar.
Keep in mind that if you were receiving the USB notifications because of real USB errors, they will be now be ignored. If possible try to address the errors first. Power management and bad cables (connections) can also be the cause of erratic USB notification messages.
Entry Filed under: Device Errors